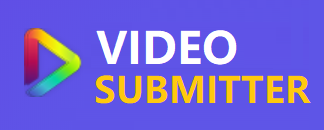 Submit Videos to 30+ Sites Instantly!
The First Ever Web-Based - Full Automated - Video Submission Tool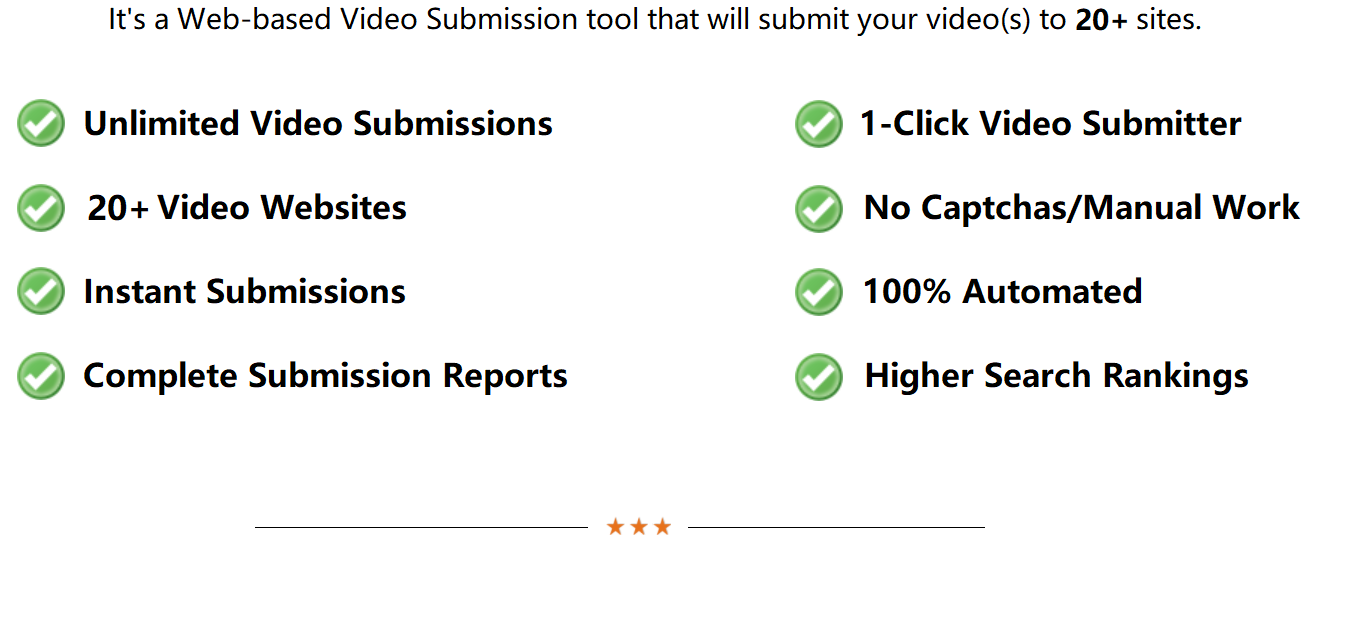 HOW TO GET STARTED?
3 Simple Steps


Web-based Submitter
Nothing to download or install. VideoSubmitter is web-based, with high campaign processing speed and 99.99% submission success rate.

Unlimited Campaigns
What if you could submit an UNLIMITED number of Videos and create UNLIMITED Campaigns? Well, VideoSubmitter is the answer! YES, no limitations.

HQ Video Sites
Submit your Youtube Videos to 30+ Active Video Hosting sites instantly, within a few clicks. It can't get any easier than this!

All Languages
Whatever language your video, title, and keywords are in - Do not worry because VideoSubmitter supports all languages :)

Ping Tool
Ping all your videos links right after a successful submission, thanks to our built-in one click ping tool. It's easier than sending an email!

Video Backlinks
Video submission and syndication is one of the best ways to get video backlinks. Get some powerful links with VideoSubmitter to finally dominate those top search spots.

Video Info Grabber
Enter your Youtube Video ID and leave the rest on VideoSubmitter as it will pull all the details from YT while submitting to 30+ sites.

Submission Reports
Get Instant reports right after the submission and processing of a video campaign. Each & every link is reported so that you know exactly where the video is submitted.

Full Automated
VForget about semi-automated tools, manual work, and expensive freelancers. VideoSubmitter is Full automated and lightening fast! No captchas, No proxies, No manual work!.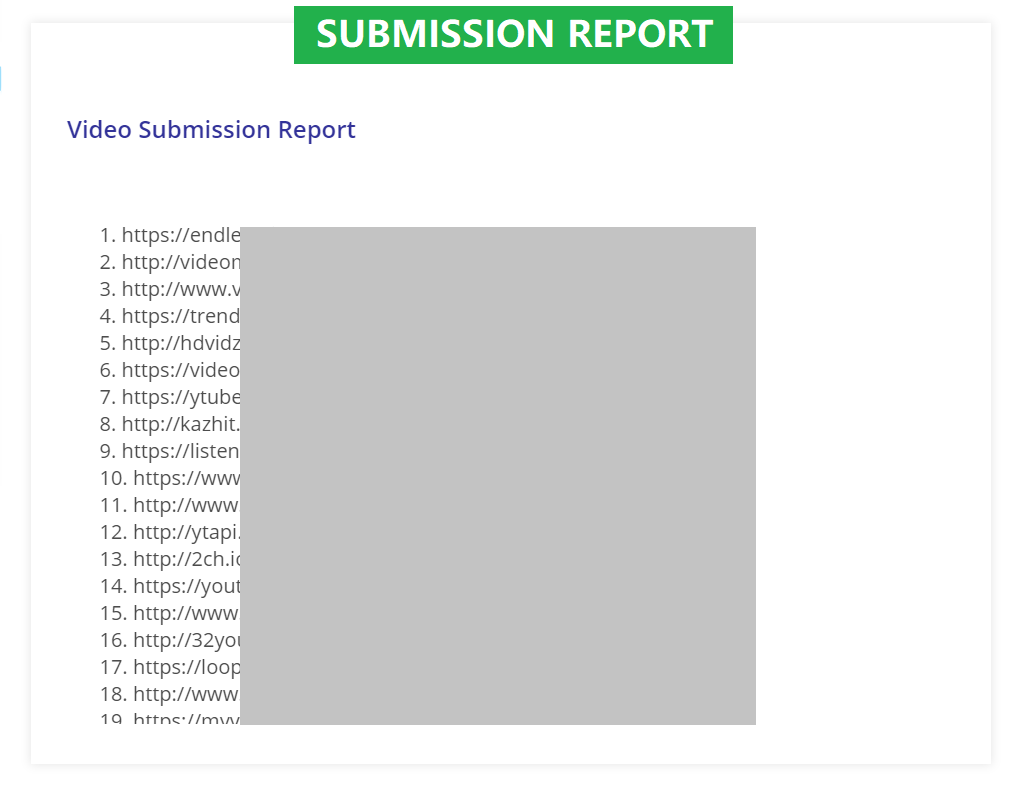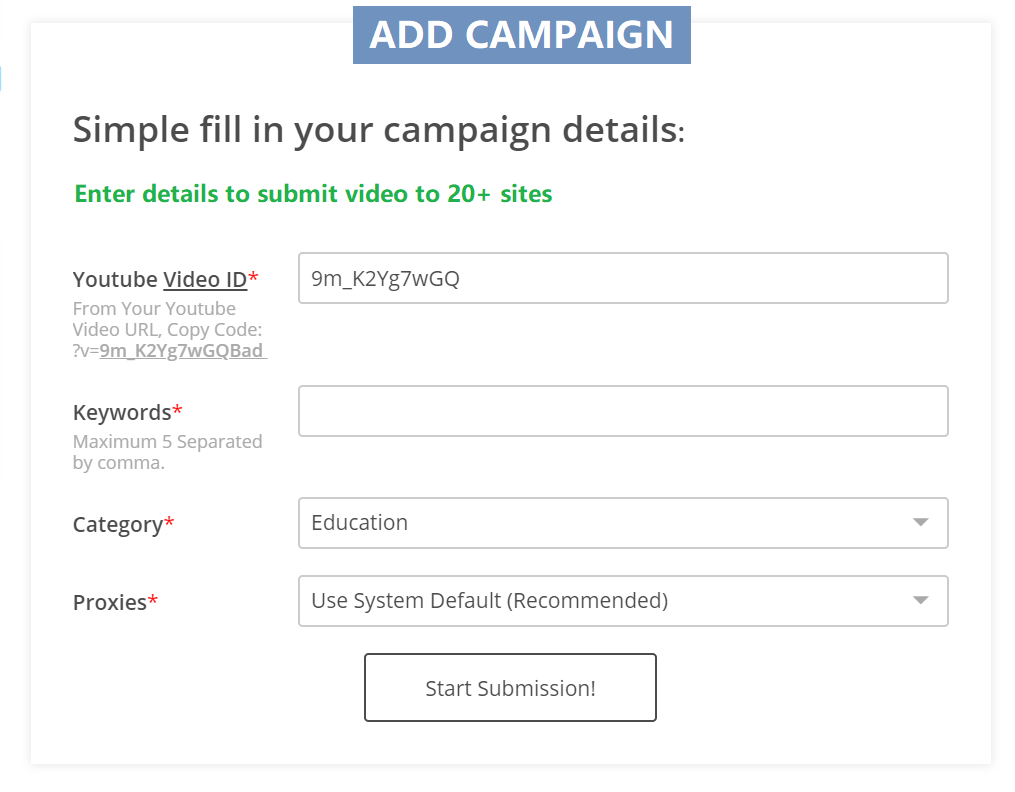 1. Instant Submissions
No delays, No waiting - VideoSubmitter will submit your videos to 30+ site instantly!
2. 99.99% Success Rate
No excuses, No server issues - VideoSubmitter has 99.99% submission success rate which makes it highly reliable and effective.
3. Complete Reports
You will get a complete list of links where the video is submitted, right after the processing of a campaign.
4. No Manual Work
Just like you, we hate signing up and filling captchas too - That's why VideoSubmitter is 100% automated.
5. Proven Ranking Strategy
After working with 1000s of clients, Video Submission has been one of the most effective ways of ranking a video higher. So are you ready?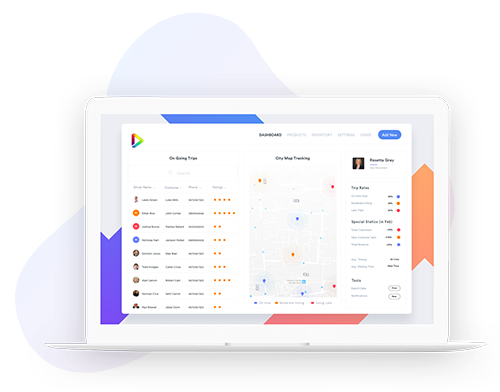 Make $$$ - Sell Submissions
Yes, that's right! You can start your own Video Submission service and use VideoSubmitter to submit videos for your clients.
White-label Reports
VideoSubmitter generates a white-label report so that you can easily copy, paste, and send to clients with your own branding.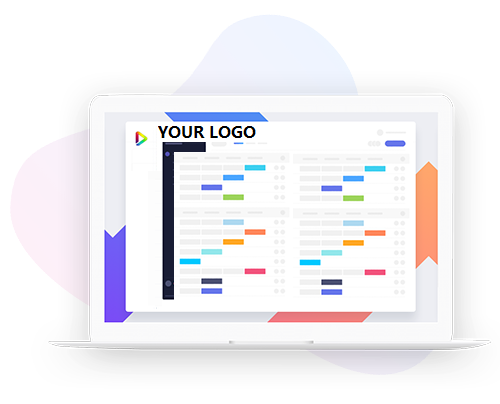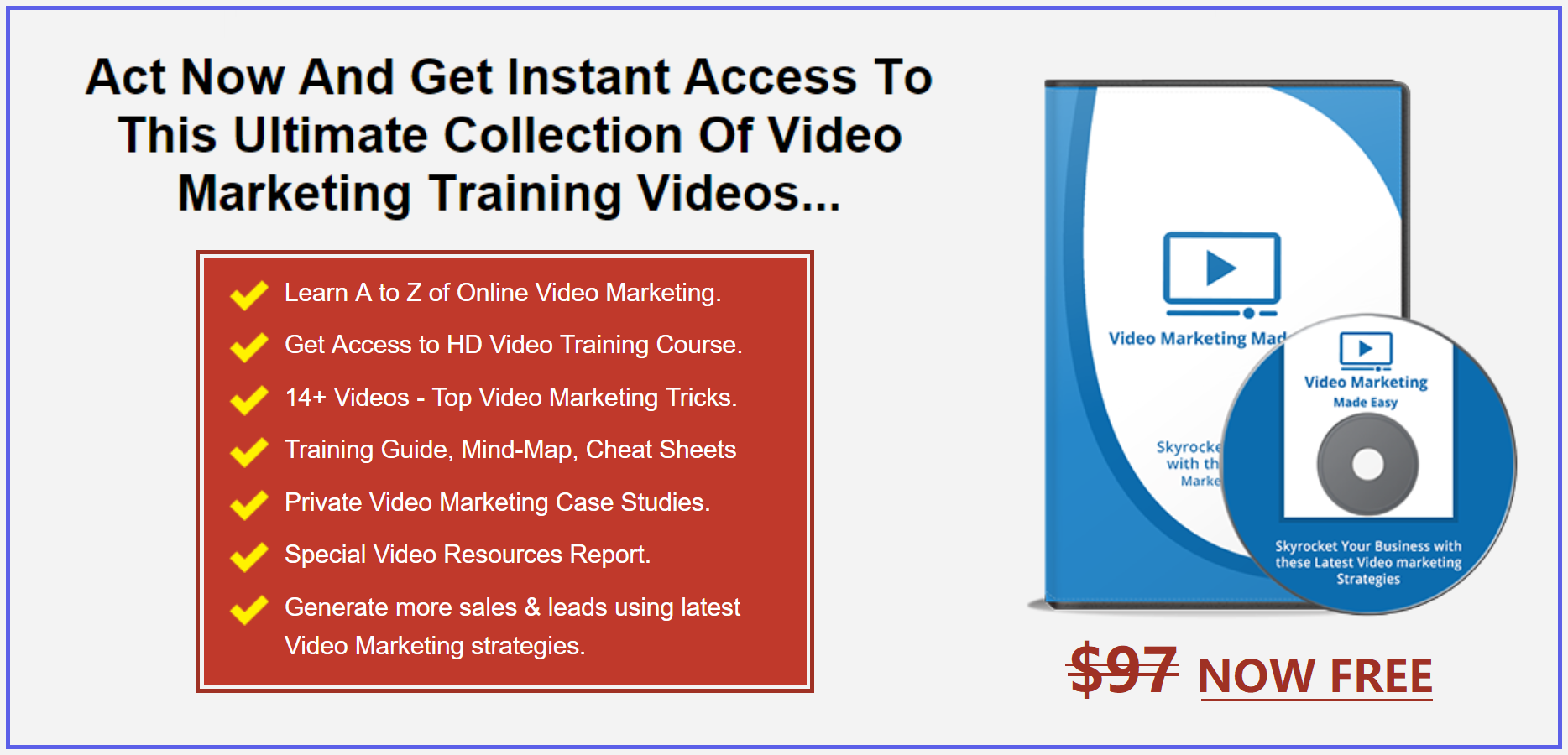 Frequently Asked Questions